Premises
The MRI Centre of the INT is located in the CERIMED building, on the Timone Health Campus (see address and maps).
The premises are mainly composed of the magnet room, a large control and experimentation area, two technical rooms, a training room (equipped with an MRI simulator) and a small electronics workshop.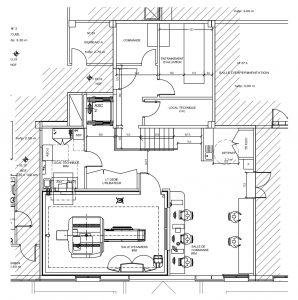 Virtual tour
The MRI Centre – INT @ CERIMED has benefited from a welcome initiative from the Neuroschool of Marseille, which made it possible to film in 360° and from two points of view the main living and working area of the Centre: the control room and the entrance to the MRI room.
You can take advantage of this virtual visit, commented by the Centre's research engineers who briefly present the fields of activity of the MRI Centre (you can explore the 360° angle of view in real time by clicking in the video).