The Siemens 3T MRI Prisma, is the flagship 3T MRI for advanced research but with all the features used in the clinic.
The MRI system was delivered and installed in the premises of the MRI Centre at CERIMED in November 2015. The official reception of the imager was carried out in February 2016.
We propose on this link a slideshow of the delivery of the magnet.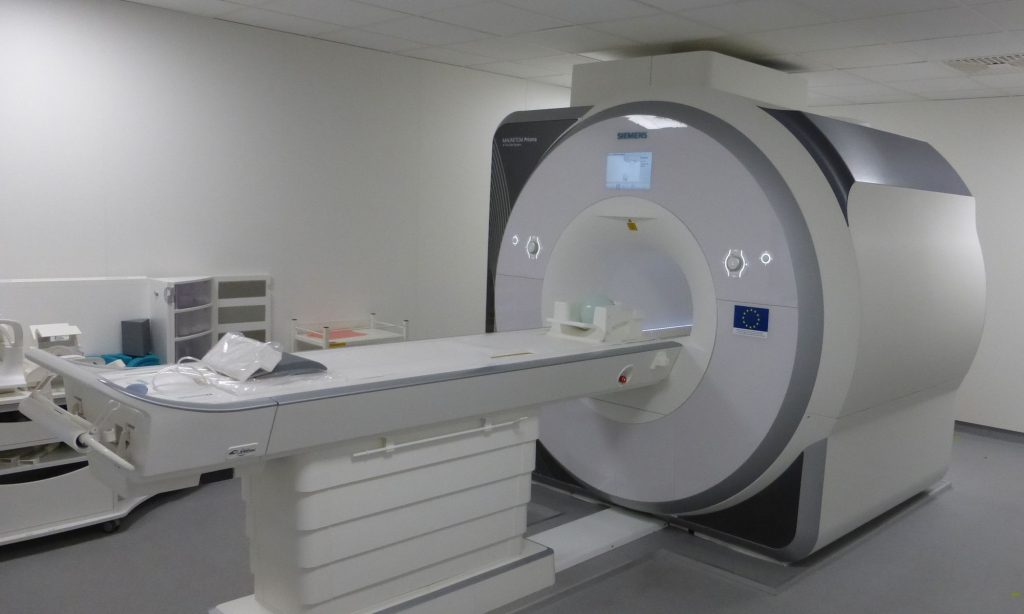 General Features
Total mass of the imager (including magnet, gradient sleeve, table,…): 12,200 kg (magnet alone: 9674 kg)
Imager size (length x width x height), with cover and without bed : 213 x 250 x 252 cm
Inside diameter of the tunnel: 60 cm
Distance between the bed and the top of the tunnel: 47 cm
Maximum patient weight: 250 kg
Connected power: 110 KVA
Instantaneous power: 95 KVA maximum momentary
Characteristics of magnetic field gradient systems
Maximum Gradient Intensity: 80 mT/m per axis
Gradient Rise Time: 400 μs
Gradient switching speed (slew-rate): 200 T/m/s
Characteristics of radio-frequency transmission system
Exclusive TimTX TrueForm system: 1 channel with independent amplitudes and phases after power splitter. It is a specific technique for RF excitation including a hardware and a software part. Two independent amplitudes and phases are used by the RF emission path, allowing the excitation due to the B1 electromagnetic field to be optimized and standardized beyond the classical quadrature mode. This technique allows a uniform RF (B1) distribution for all anatomical regions.
On the other hand, TimTX TrueShape, Siemens architecture for parallel transmission type technology. (pTX) technology, uses 2 independent transmission channels for completely free excitation (possibility of 2 completely different RF signals). => This hardware part could also be used for a Shimming B1.